Iroquoian Languages
---

West Virginia Mingo is a member of the Iroquoian family of languages. On this page, we give some background on the languages of this family.
---
How many Iroquoian languages are there?
Although this seems like a simple question, it is actually trickier than it appears. What counts as a separate language -- and what counts as "just a dialect" of some language -- usually depends on a variety of things, including historical, cultural, and geographic factors, as well as actual differences in grammar, vocabulary and pronunciation. Depending on how you weigh the different factors, cases could be made for as few as 8 different Iroquoian languages, or as many as 16 or 17. From my own perspective, I usually count 10 "main languages".


Cayuga
Cherokee
Huron
Mingo
Mohawk
Oneida
Onondaga
Seneca
Tuscarora
Wyandot
There are also a number of other Iroquoian languages that have been extinct for over a century, and about which we know fairly little, including Erie, Susquehannock and Laurentian.
Where are they spoken?
The Iroquoian languages were originally spoken over a very large expanse of territory, including much of the southern Canada (Ontario and Quebec), particularly along the St. Lawrence River and the Great Lakes, through large portions of the Mid-Atlantic states, and down into the Carolinas. Today, speakers of Iroquoian languages are still found in many of these same areas, but the largest number of them are now in Oklahoma, among the Cherokee. The table below gives a general indication of where each of the languages is/was spoken.


Cayuga: central and western NY state, southern Ontario, northeastern Oklahoma
Cherokee: western North Carolina and eastern Oklahoma
Huron: Ontario and Quebec
Mingo: eastern Ohio, western Pennsylvania, and West Virginia
Mohawk: northern New York, Ontario and Quebec
Oneida: central New York, southern Ontario and eastern Wisconsin
Onondaga: central New York
Seneca: western New York, southern Ontario, northeastern Oklahoma
Tuscarora: North Carolina, western New York, southern Ontario
Wyandot: southern Ontario, northeastern Oklahoma
How many people speak an Iroquoian language?
All of the Iroquoian languages today are endangered, to one degree or another, and two of the ten languages above, Huron and Wyandot, are already extinct, with no remaining native speakers. We can rank the remaining eight in table below. Note that the number of speakers given here is only a best-guesstimate, not an actual headcount.

Language
Speakers
Cherokee
Mohawk
Oneida
Cayuga
Seneca
Onondaga
Tuscarora
Mingo
22,000
2,500
300
300
100
80
under 5
under 5
How similar are the Iroquoian languages to one another?
The Iroquoian languages all bear a great deal of similarity to one another. Indeed, it was not long ago that you could find many people who could speak 3, 4 or more of these languages with great fluency, due, in large part, to how similar they are to one another. Mohawk speakers, for instance, often report having little trouble understanding people speaking Oneida, and vice-versa (this is one reason why some might want to consider Mohawk and Oneida as dialects of the same language). The same often holds true for speakers of Mingo, Cayuga and Seneca. Among the Northern Iroquoian languages (that is, all of them except Cherokee), the main differences lie in matters of pronunciation, and less so in vocabulary or grammatical structure, so that if someone knows how to speak one of those languages, they can acquire a working knowledge of one of the others with comparatively little effort. On the other hand, Cherokee has more substantial differences which set it apart from the Northern languages, and while its Iroquoian nature clearly shows through under close inspection, the similarities are much less obvious.

The diagram below gives a general indication of how the historical relationships between the languages. Languages in the same small circle are closley related to one another; languages in the same larger circle are less closely related. Cayuga is a special case, as it appears to straddle the boundaries between several of the other groups.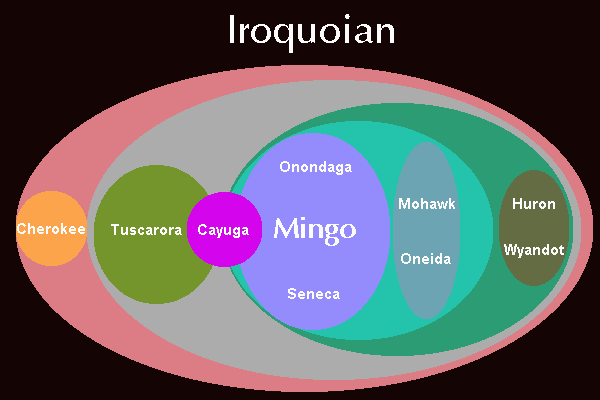 Are the Iroquoian languages related to any other languages?
This is still an open question, and one on which research continues to this day. The language families which seem most likely to be related, distantly, to the Iroquoian family are the Siouan family and the Caddoan family. Most all of the languages in these families are spoken in the Great Plains, stretching from the prairies of Canada down to the heart of Dixie.

The languages of the Siouan family include:

Assiniboine, Biloxi, Catawba, Crow, Dakota, Hidatsa, Hocak (Winnebago), Iowa-Otoe, Kansa, Lakhota, Mandan, Ofo, Omaha-Ponca, Osage, Quapaw, Stoney and Tutelo.

The langauges of the Caddoan family include:

Arikara, Caddo Kitsai, Pawnee and Wichita.

The languages of the Algonquian family, which border Iroquoian-speaking areas throughout much of the Northeast, are clearly not related to the Iroquoian languages.


---
Back to the Mingo Mainpage